John Kennedy's new album project started in late 2020. Kennedy and his band were going to record two albums – one of new originals and a second volume of the Raining Treasure Australian indie covers series. The project started with a bang with Murray Cook having open heart surgery. That was followed by the second round of COVID lockdowns, so the band focussed on the simpler of the two – the Raining Treasure album.
By mid 2022, the band got the ball rolling again on the new originals album. With four songs in the can from the earlier sessions, "all" Kennedy needed to do was write eight new songs and record them before the deadline of Christmas 2022. No pressure.
Eight new originals were needed in six months. It was going to go down to the wire and as they were approaching the deadline, recording engineer Geoff Lee at Zen Studios had a heart attack. This put him out of action for four weeks before he came back to the studio part time.
The band persevered and with the help of Geoff and mix engineer Rusty, working remotely in Tasmania, they managed to get the project over the line.
Kennedy leaves Australia in June 2023 to live for an extended period in Spain. The album is probably the best collection of his original songs he has ever worked on. With band mates Peter Timmerman on drums, guitarist Murray Cook and bassist Phil Hall who has come into his own with arrangement ideas, additional instrumentation and co-production, Kennedy is working with the best band he's ever played with. He is also singing better than he's ever done. His talent has shone through, the perseverance has paid off and with this album Kennedy leaves the Australian indie music scene on a high.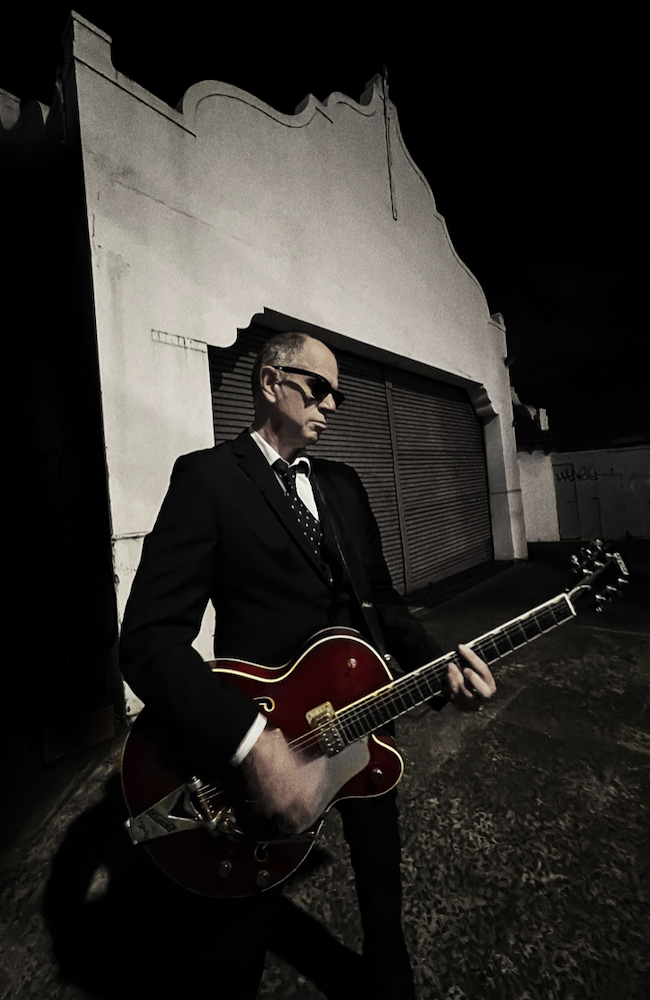 About John Kennedy
An enthusiastic young music journalist once described Sydney musician John Kennedy as a humble genius. Kennedy is neither a genius not particularly humble. He is the singer / songwriter of many classic Australian Indie songs that have found a place in the hearts of music lovers of a certain generation.
Kennedy started his music career in Brisbane with his first band JFK and the Cuban Crisis. A move to Sydney brought immediate independent success with his first release on Waterfront Records, the Careless Talk Costs Lives ep. It's featured song 'The Texan Thing' became a JJJ radio hit. The band broke up in the mid-'80's after the release of the prophetically titled 'The End Of The Affair' album and Kennedy went on to pursue a solo career with his band vehicle John Kennedy's Love Gone Wrong. Numerous indie hits including 'Miracle (in Marrickville)', 'King Street' and 'Big Country' followed but commercial success remained elusive. In 1989, Kennedy chose to travel the world with his guitar living by the mantra: Have Songs, Will Travel.
After ten years of living, performing and recording in LA, Berlin, Hong Kong, Holland and London, Kennedy returned to Sydney in the 2000's and formed John Kennedy's 68 Comeback Special. With an ever-changing line up of musicians, he continued to release numerous albums before settling with a stable group of bandmates: original Love Gone Wrong drummer Peter Timmerman, ex-Red Wiggle Murray Cook on guitar and Phil Hall formerly of Sardine v, The Dropbears and The Lime Spiders on bass. With this new release, this line up has now morphed into John Kennedy And The New Originals.
The last five years have seen Kennedy busier than has he ever been with six album releases in six years. The release will be his last for the foreseeable future with Kennedy planning to leave Australia in June 2023 to live in Spain for an extended period.
Song Descriptions
Discover Me
This swinging and rocking single 'Discover Me' is full of life, fire and passion. An up-tempo tune that would give you no idea these guys have been recording since the 1990's. Catchy backing vocals and guitar hooks and riffs – a power pop classic.
Girl Of My Dreams
An acoustic/electric start with some great backing vocals a la Roy Orbison, a very chilled out rhythm section and baking band slowly groove into this ballad. Some really tasteful guitar and vocal work on this one.
It's Good To Be Here
A more up-tempo radio friendly power pop song that harkens back to his early work; hooks and riffs abound, think Hoodoo Gurus, The Church and Died Pretty. Classic indie rock from those days with a modern edge and production.
John Kennedy and The New Originals is out now 10th March 2023,
on Foghorn Records through MGM. 
Latest Video
Stream or Download
Connect with John Kennedy