In the lead up to the band's no less than 10 live performances at this years Tamworth Country Music Festival here's the first cut from the forthcoming album.
Key dates
Jan 13 'If I could make you see' digital single release(all platforms)
Jan 14 – 21 CD Album Agave Soiree Pre release available exclusively at Tamworth Live shows
March 1 CD Official release available via MGM
March 17 Digital Release Album Agave Soiree
Lyrically, 'If I Could Make You See' is an old story told with a twenty first century bias. Instead of the typical "Man goes off working while woman pines away waiting for his return", it's the man left behind to pine and wonder if his love will ever come back. This track bounces comfortably along on the back of some tasty Mezcaltones style bluegrass riffory. While the rhythm section lays down some Buck Owens/Buckaroos vibes, the modal guitar solo gives a respectful nod to the late 60's Byrds/Flying Burrito Brothers' style.
Classic country Mezcaltones style on this first cut from the new album for 2023 specially released for the Tamworth Music Festival. A tight snappy rhythm track with plenty of hooky country twang guitar. Col's signature vocals and some catchy backing vocals in the chorus – what more do you need!
WHAT IS IT WITH THE MEZCALTONES?
Four guys dressed as cowboys and two women dressed like Spanish Mexican Señoritas that you might find in a Quentin Tarantino movie – two guitarists, a bassist, a drummer, a crazy front man and a beautiful dancer/percussionist.
Whilst their original songs have an alt country rockin' blues flavour, the guitar tones also reach into the realms of 60's surf instrumentals. With the band's slick look and sharp costumes, THE MEZCALTONES are there to entertain.
THE MEZCALTONES comprise 6 experienced musicians who came together through their love of cool country rockin' blues, and get down and get dirty Tex Mex sounds.
Don Juan – Texan Time Keeper with a Smooth Tequila Feel
Col Padre – Raspy Lead Vocals dripping with Desert Soul
El Shango – Lead Guitar possessed with tangy, psychedelic blues, magic finger licks
Lucre – Mezcaltonic Groovin' Bass Sounds
Mimi – Spicy Seductress who shakes it like a Rattle Snake
Neralita – Queen of Southern Rhythm Strummin'
The Mezcaltones have previously played six Tamworth Country Festivals; Groundwater CMF; Sydney Blues & Roots Festival; Dashville Skyline Festival. Their latest album Mexican Hillbilly Surf Music debuted Top 10 in the Australian Blues & Roots charts.
Stream/Download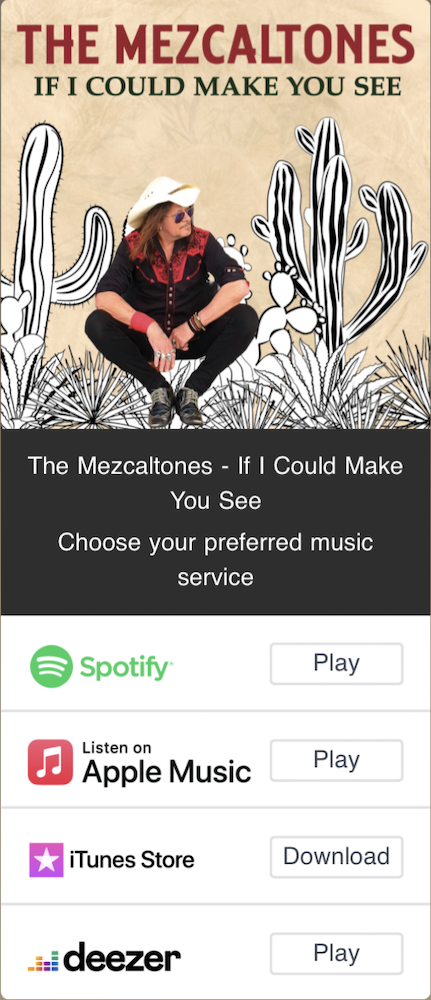 Connect with The Mezcaltones: